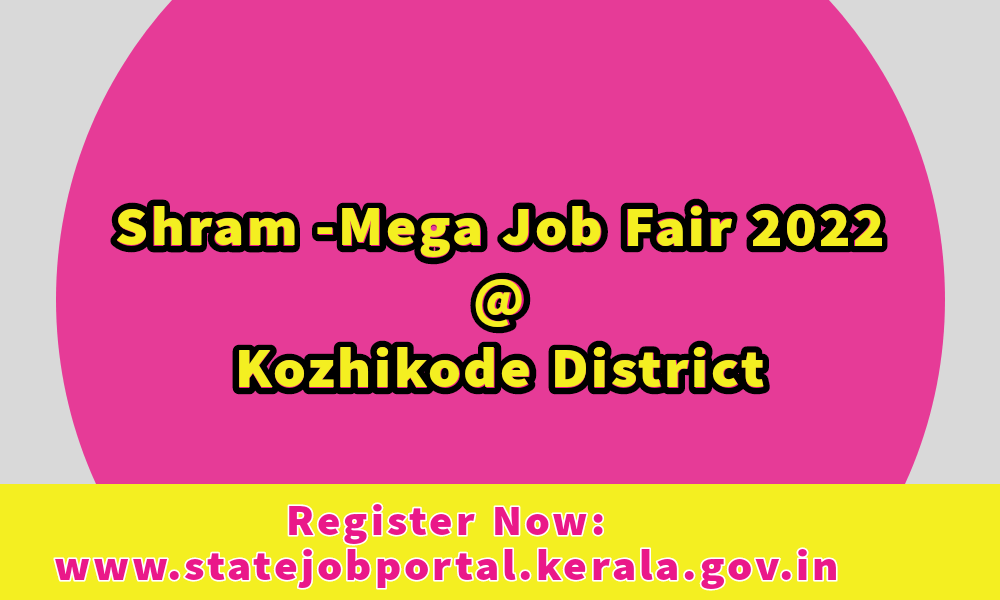 കേരള അക്കാദമി ഫോര്‍ സ്‌കില്‍ എക്സലന്‍സിന്റെ മേല്‍നോട്ടത്തില്‍ കോഴിക്കോട് ജില്ലാ ഭരണകൂടത്തിന്റെയും, ജില്ലാ സ്‌കില്‍ കമ്മിറ്റിയുടെയും ആഭിമുഖ്യത്തില്‍ Shram – Mega Job Fair 2022 ഫെബ്രുവരി 19 ന് കോഴിക്കോട് ഗവൺമെന്റ് എഞ്ചിനിയറിംഗ് കോളേജിൽ മെഗാ ജോബ് ഫെയർ സംഘടിപ്പിക്കുന്നു.
Date: 19 February 2022

Time: 09:00 am to 05:00 pm

Venue: Govt Engineering College West Hill Kozhikode.

തൊഴിൽ സംബന്ധമായ വാർത്തകളും വിവരങ്ങളും അറിയാൻ JOIN Whatsapp group

Join Now
Participating Companies
Erica Immigration Services Pvt Ltd
HiLITE Group
APCO HONDA CRAYSOL TECHNOLOGIES INDIA PRIVATE LIMITED
INDODEMY LEARNING SOLUTIONS LLP
Alpha venture
SYSOL System Solutions
Eram Motors Pvt Ltd
Atlinkz
IAMA Designs and Developers
AppSure Software Solutions Pvt Ltd
CAPITAL FINSERVE
Acodez IT Solutions Pvt Ltd
ORPHIC VIMPTECH
APCO VEHICLES INDIA PVT LTD
Aditya birla capital
HDFC Life
Open Medicines
Limenzy Technologies Pvt Ltd
E V MOTORS
Pride
RESILIENCE
Malabar Group
RYDBERG INFRA TECHNICS PRIVATE LTD
Hdfc life
iamosolutions Pvt. Ltd
SV MOTORS
Ayur care
SESAME SOFTWARE SOLUTIONS PVT. LTD
Calicut Landmark Builders & Developers (India) Pvt. Ltd.
പങ്കെടുക്കുന്നതിനും രജിസ്ട്രേഷനുമായി http://www.statejobportal.kerala.gov.in/publicSiteJobs/jobFairs സന്ദർശിക്കുക.